Episode 1 -

THIS ACCOUNT IS PURELY FICTIONAL, BUT IS BASED ON
REAL-LIFE PEOPLE AND EVENTS.

The phone rings, I hate when that happens.

"WIZE Computers!"

"Yeah, hi, I am looking for a computer, do you sell them?"

"Yes we do, how many were you looking for?"

"Just one"

At this point I've detected a hint of idiocracy,
but I still try and play it cool, as this chick
sounds cute.

"O.K. So what did you have in mind." I say, looking
for clues.

"Well I'm not sure, what can I get"

I like it when they play evasive. "Well we have a
broad spectrum of computing platforms, what kind
of a budget are you on?"

"Well, I was looking for something, umm, actually
I had heard that I could get something for about
100 dollars."

This triggers the fraud alarm, so I hang up and
investigate the fraud alarm, stupid thing is always
freaking out.

The phone rings again, its the Boss.

"So what's up man. What you got goin'"

"Not much, same old thing."

"Well, check it out I've been talking to this guy,
his daughter should be calling you any minute, looking
for a machine, see if we can throw something together
for about $100."

"ok"

"ok, talk to ya later, bye."

The fraud alarm is going off again, so I unplug it. The
silence is much more peaceful.

The phone rings again, which reminds me that I need to go to
the bathroom. Josh answers the phone. I use the bathroom. When I
come out, Josh tells me "Hey, there is a girl on Line 1, looking
for a computer."

"O.K. I got it" I plug the fraud alarm in again.

"Hi, my name is Denise, I just called, and you hung up on me,
and that isn't very nice, and I'm going to tell my.."

Both the fraud alarm, and Line 2 ring at the same time.

"Hold on Denise, can you hold for just a.."

"YOU CAN'T PUT ME ON----"

"Please hold" I push the hold button.

"WIZE Computers!" I say proudly.

"Hey, its me again" It's the Boss. I notice Denise has hung
up, and appears again on the Boss's phone. This is a rather
tricky manuver, as it was really the Boss's secratary,
masquarading as a customer!

I hang up the phone, and unplug it. The Boss had been up
to no good this week, taking advantage of every oppurtunity
to play a joke on me. I thought he might learn better after
I made turkey stuffing out of what was left of his cell phone,
but some people never learn.....

At any rate this calls for definent retaliation.

I run a pair of speaker wires from the outlet to the keyboard
and mouse, and speakers, and I turn the volume all the way up.
Primitive, but I am short on time as the Boss, and his scretary,
and the rest of the employee's are walking in the front door.
I dive out of the office just in time......

the lost stories - top of the page to me


---


Episode 2 -

THIS ACCOUNT IS PURELY FICTIONAL, BUT IS BASED ON
REAL-LIFE PEOPLE AND EVENTS.

It's payday. I can't believe they only come 62 times a year.
Especially since I made up those new calenders. At any rate,
I'm in a good mood. I'm putting the final touches on my shrine
to Simon Travaglia, I've spent the better part of this week on
it. Josh said the bear traps set up in front of the shrine was
a little overkill, but he just doesn't understand,
NO ONE TOUCHES THE SHRINE.

At any rate, the secretary is taking a sick day, and I have the
shop to myself for the moment. I am passing the time buffing the
floor in the office with spray lubricant. It isn't very exciting,
but someone has to do it. The floor used to be all sticky, with
plenty of traction. I can really see my reflection in the linolium
now.

Done with the floor, I move onto service. One of the machines seems
to be working fine, but there is not sound. I take the sound card out,
and I start to work. I grab my soldering iron, and 15 minutes later,
PRESTO! This sound card not only works, it will blow out any equipment
plugged into it! Another job well done. And this was under warranty too!

Next PC, hmm, machine needs RAM. I put it on the chair with wheels, and
push with all my might, the chair flys across the room and out the open
back door, into the parking lot. The chair hits a rock, tips and the PC
spills.

Ok, now the phone is ringing, I let the voicemail get it. The shop may
open at 10 am, but I'm not open until next Thursday. All this work is
making me hungry, so I'm gonna go to lunch.

Before I go, I give a call to the secretary, and ask how she's feeling.
I remind her again of the dangers of static electricity and computers.
Yesterday she attempted to use the office machine, and got a very nasty
shock, upsetting her stomach. That might have been why the floor was so dirty....


the lost stories - top of the page to me


---


Episode 3 -

THIS ACCOUNT IS PURELY FICTIONAL, BUT IS BASED ON
REAL-LIFE PEOPLE AND EVENTS.

Well, it is now Friday, which is payday. I walk on into the store, the
boss is waiting for me. "Seems like you have been missing a lot of work
lately."

"Well, I wouldn't say I've been missing it."

I walk behind the counter. Service is piled up to the ceiling, literally.
I call Jared over and have him start to haul everything out back.

Customer walks in, up to counter, and asks "Is my computer done yet?"

"Well I'm not sure, was it a piece of shit?"

"Yeah, thats it."

"OK, well I have some bad news. Your computer was in such bad shape,
we had to dispose of it, as it was causing problems with the rest of
the computers. And it was giving Bill a headache." I point to the
lifesized cardboard Bill Gates.

"Well, I need my computer!"

"Ok, let me get it for you."

I grab an empty case, and throw some chips and old circuit boards in.
I hand it to Jared and he gives it a good shake. It's starting to sound
good. I bring it out to the customer. "You may experience a little trouble
starting it up, but don't worry, thats just solar plexus."

"Solar PLEXUS?"

"Yeah, it's the same stuff that makes prime time TV bad, and your food
cook good." The customer leaves in a daze. Then I realized they forgot to pay! I hit
the NPCA (Non-Paying Customer Alarm) and the entire room goes black. The
floor beneath the customer falls through, and the customer disappears.

Later, I get a call from what seems to be the customer's significant other.

"I'm sorry, I don't have any record of him coming in today. But his computer is ready for pickup......"


the lost stories - top of the page to me


---


Episode 4 -

The phone rings. It must be Saturday, and I must be tired, because the phone is usually off hook all week. "WIZE Computers?" "Uh Hi, yeah, ummm, has Kevin left yet?" I decide not to answer, and hang up. The Boss and Kevin return, some papers in hand. I inquire as to their whereabouts. "We were checking out this guy, said he had a Tiger Woods card worth $150,000" I unplug the fraud machine before it can go off. Damn, I'm quick. "Anyways, so the card turns out is worth $9, but he gave us some copies of his poetry, autographed and all. We think he was gay. Him and his boyfriend said they weren't, but.." "Hmmm, lemme hear this poetry." He reads, and I make an offer. "I'll give you $5. No, $10 for one of the poems." "OK, sounds like a good deal." "EXCELLENT" Now the real fun begins. A few phone calls yields our poets address, and a lighter reduces the poetry to about 15 or so slightly burnt articles of paper, with vague markings indicating that at one point, there was poetry on it. I brush all the evidence into an envelope, stamp and address it, and in 3 days, the desired results should be achieved. Well folks, thats our story for today, as I've got more work to do. the lost stories - top of the page to me


---


Episode 5 -

I didn't want to. I didn't even have to, really. Oh wait, yes I did. Standing over Josh's computer laying in the back parking lot in pieces. About 200. Wait a minute, let me start earlier..... Kevin and Josh are excited. Kevin more so, but Josh too. All their slacking off is starting to pay off. After totally draining the business of all cash, they've decided to make this the record year they've been after. "We've heard you are good with numbers." "Sometimes it depends on how many numbers there are..." "How about 50 thousand numbers." "Sound's like something I could handle." So the gig was set. I change the sales figures to reflect record numbers, and they wire-transfer 50 thousand somolians to the bank account of a small country. :-) Later that day, FedEx arrives with a small package. Inside, my new bank card. I go to the ATM and check the balance. It says $0.05. This is getting old fast. I call Josh on the phone. All he does is chuckle, I understand. Bank of Somolia. Doesn't take long before I am inside his apartment, cutting his machine from its life support system, the speakers scream for just a brief moment as the power cord is sliced. I finish the job back at the shop. I call up a couple of plumbers I know, the heavy pipe hitting kind, and we go to work on the computer with a pair of pliers and a blow torch. And the rest, as they say, is history. the lost stories - top of the page to me


---


Episode 6 -

From: *censored*@aol.com Date: Thu, 12 Sep 2002 16:56:00 EDT Subject: Monkey Pumpers To: morrik@knvegeta.net hmmm...lalalala....bored. why am i bothering you? cause i'm bored. lalalala..a..a..achoo!! why am i sneezing?? byebye ~*censored* Josh's Response: You're bored because there's nothing to do. You're sneezing because your nose itches or a fruit fly flew up in your nostril. Anything else? :) the lost stories - top of the page to me


---


Episode 7 - The Bastard Technician is back!

It's Thursday. I can't remember what day yesterday was. Everthing is hazy. My vision tinted blue. Splintered memories, creeping up out of the time fog..... The door chime chimes. Guy walks in, picks up bag of shoes from floor, turns, and walks out. No words, no glances. The place is silent. Sometimes strikes me as odd, and I walk out the door to follow my visitor. I walk quickly to catch up to him. I confront him. It's Jesus! "Excuse me sir, you grabbed my shoes and walked out." "These shoes are my girlfriends, she left them there about an hour ago, didn't she call??" "No." "....short girl, about yay, brown hair, pony tail?" "No. I'll be taking my shoes back. Sorry." The stranger turns and keeps walking, unphased. I return to shop, and put the shoes in the safe. The place is silent once again. It's Thursday. I can't remember what yesterday was....." the lost stories - top of the page to me


---


Episode 8 - A Bastards Revenge.... part one

"You scurvy shister bastard! You won't get away with this. I mean, what the heck is going on in this country when a scumsucker like that can get away with sandbagging a bastard technician, can you tell me??" "AACK!" Josh hisses, then runs. Kevin is cornered. For six weeks, I couldn't wake. Couldn't wake, couldn't wake... When you can't wake up, nothing is real. Everything is a copy, of a copy, of a copy. When deep space exploration ramps up, it will be the big corporations that name everything. The IBM Stellarsphere. Microsoft Galaxy.... Planet Starbucks...... Before 7 words can be said, Kevin is bound with electrical tape, and is hanging from the ceiling upside down. I think I'll leave him there for a few weeks and let him think about what he's done......" the lost stories - top of the page to me


---


Episode 9 - A Bastards Revenge.... part two

"MACE! I'VE GOT MACE! YOU WANT THIS!" I scream. "You'd do that wouldn't you, you fuckin bastard!" Kevin replys. "Sure why not, just a few weeks ago, you tried to kill me, now I want to kill you." I say, in a calmer tone. I pull out a large knife, and start waving it around like a maniac. "ooo boy, are you upset?" Kevin asks. "Walking around with a head cleard of Robitussin, wanting to slice me up with that god damn blade!" "Huh!? Who said anything about slicing you up man? I was just going to carve a P in your forehead." I reply. "Now, I need some fucking rest, so just stay still." I walk out of the room, head still spinning. I need to get to work. God DAMN, what a bummer. the lost stories - top of the page to me


---


Episode 9 - Interview with a Bastard

Ring.....Ring..... "Hello?.......I can hear you breathing, you" If you asked me now, I couldn't tell you why I called him. Ring.....Ring......Ring.....Ring......Ring..... My head dropped in sorrow. All of the sudden the phone rings. "Hello?" I answer. "Who's this?" A voice asks. "Bastard?" "WHO IS THIS!?" The voice demands. Then I hear munching sounds. So strange. I say "We met on a plane, I'm the clever one?" "Oh. Right....." the munching continues. "I'm at a payphone, there was no answer" "I *69'd you, I never answer my phone." It sounds like he has food in his mouth. "Umm, Well, you're not going to believe this....." 15 minutes later I get out of the cab, outside of a rather dingy looking bar downtown. Inside I find not too many people, but in the corner, at the bar, I see the Bastard. In front of him is a half-empty pitcher of beer. in his hand, a bag of flaming hot Cheetos. I sit next to him. He says nothing. 10 minutes pass, and there is no conversation between us, although he is furiously munching away at the Cheetos, occasionally sipping out of the pitcher in front of him. 5 more minutes pass. I'm about to say something when suddenly, several explosive coughs burst from his lips, red cheeto bits flying. The coughs do not stop as he gets up and starts walking about the bar coughing like mad. After 8 minutes or so of this, the coughs cease, and all in one fluid motion he sits down, takes a sip from the pitcher, lights a cigarette, looks at me and says.. "Too many secrets, eh?" He then reverts his attention back to the cheetos.... the lost stories - top of the page to me


---



hello world!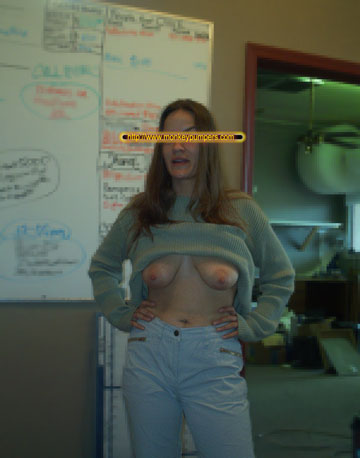 what was my job again?



yay i just got a bonus!



blah blah blah, me me me